Shopping Cart
Your Cart is Empty
There was an error with PayPal
Click here to try again
Thank you for your business!
You should be receiving an order confirmation from Paypal shortly.
Exit Shopping Cart
Margaret Sneddon, Harpist
Elegant Entertainment for Special Events!
Tips for a Great Garden Wedding
As wedding season approaches and the first signs of spring arrive, thoughts of a beautiful garden wedding can be very enticing. There is nothing more lovely if all goes well. After playing for many beautiful out-door wedding ceremonies and a few disasters, here are some tips to make your outdoor or garden wedding a success.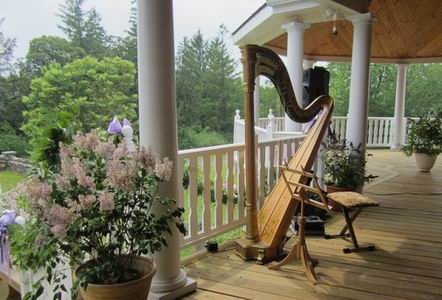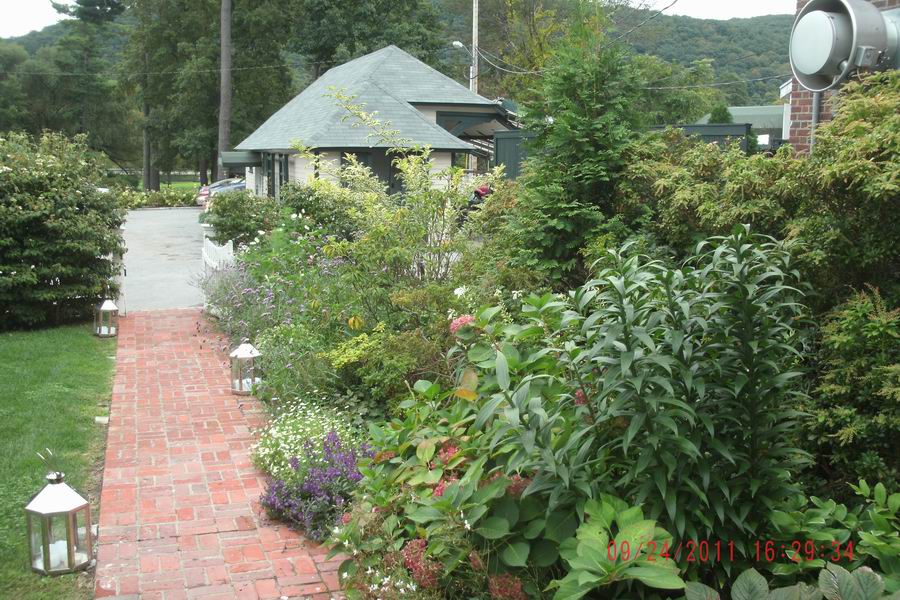 The Garden path at Highlands Country Club
1.  Choose an accessible location. You may have fond memories of getting engaged in a pine grove but your guests will not appreciate a tramp through the woods in high heels and fancy dress... not to mention your wedding vendors. I still have nightmares about dragging my harp over a quarter mile of rough ground!!
2 Choose a shaded location. Even on a cool, breezy day, it can be uncomfortable for guests to sit in the sun for any length of time. If you have the option, choose a shady location. I remeber one wedding where we were all broiling in the sun in full sight of a lovely shaded area just a few yards away.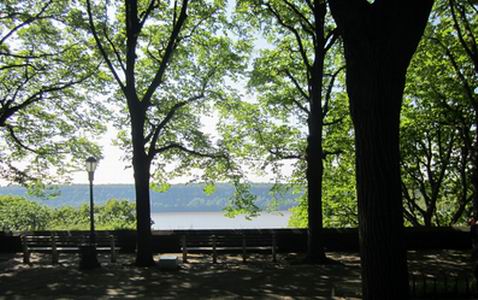 The fully shaded Linden Terrace in Fort Tryon Park has lovely views of the Hudson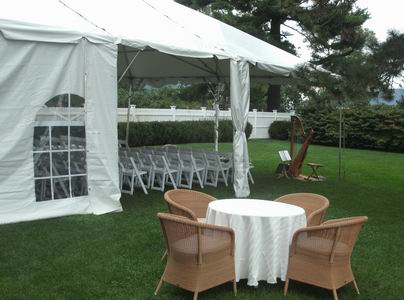 A tent protects from both sun and rain

3 If you can't choose a shady location, provide for the comfort of your guests:  If shade is not available, think about providing fans of even paper parasols for your guests. They will thank you!!!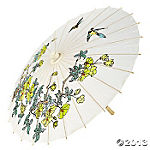 Pretty Paper Parasols can protect guests from the sun
4 Make the Pre-Ceremony a pleasurable time.  The gathering time can be a lovely part of your wedding festivities. Consider serving sparkling water or other refreshment as guests are gathering . Music during this time can create a lovely ambiance.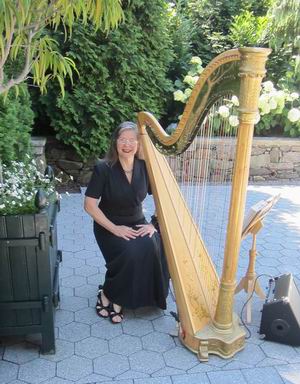 Don't forget the music!
The harp creates a welcoming ambiance at the Bronx Botanical Garden

5 Don't forget the music!!  Not only does music set the stage for the ceremony, it creates a festive atmosphere as your guests assemble and find their seats. Be sure to think about the kind music that can be brought to your location and the selections you would like for processional, recessional, and incidental music. The harp is ideal because it plays both melody and accompaniment and can be transported to most locations. 
6 Amplify - Even if you and your officiant have very strong voices, you won't be heard beyond the first few rows. Your words and vows are important and your guests will want to hear them. Most officiants provide a sound system but don't just assume, Be sure to ask. If the officiant does not provide sound, perhaps your musicians, a DJ, or even the venue can help at a modest additional cost. 
7 HAVE A PLAN B!!!  Last but not least, in fact, this may be the most important tip of all, have a plan B for inclement weather and don't hesitate to use it. Much as you would love to have your ceremony in the garden, PLEASE don't risk a disaster for yourselves, your guests, and your wedding service providers. A sudden downpour that soaks everyone doesn't just ruin the ceremony, it will spoil the entire wedding. Don't take the chance. If there is even a remote chance of rain, you must be willing to make the decision in plenty of time for things to be relocated. It takes a while to pack up and move all the accoutrements. Allow at least half an hour.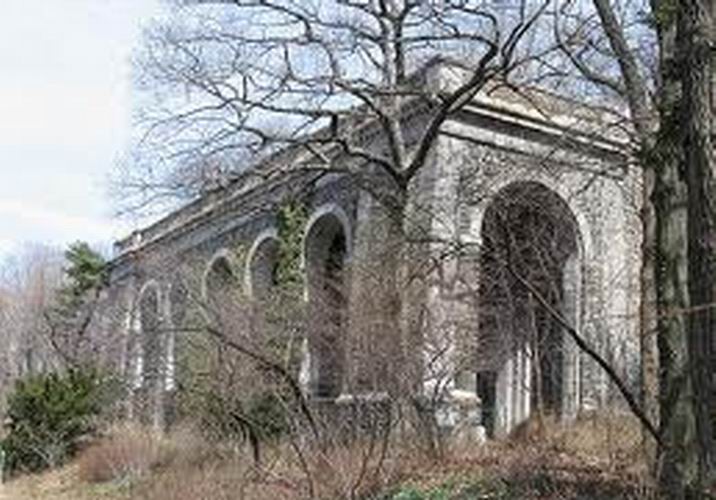 It may be under a colonnade or pavillion, on a porch, or in a completely separate location but you MUST have an alternative location in case of rain.

With all these tips in mind, by all means plan for and enjoy a beautiful garden wedding.

/