Shopping Cart
Your Cart is Empty
There was an error with PayPal
Click here to try again
Thank you for your business!
You should be receiving an order confirmation from Paypal shortly.
Exit Shopping Cart
Margaret Sneddon, Harpist
Elegant Entertainment for Special Events!
Don't Trust Your Wedding to Less Than the Best!
Don't trust your special day to an amateur. Why it's important to hire a professional.
Sometimes, after hearing my quote, couples have asked me if I have a student or someone just starting out that I can recommend. Of course, I do have some very accomplished students, and I have on occasion recommended them. However, I usually try to point out that playing is one skill and performing is another.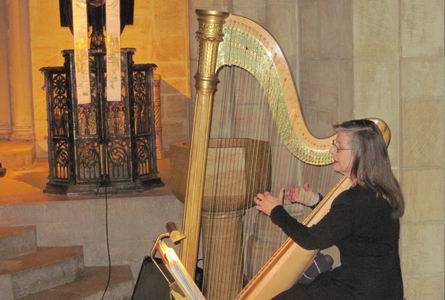 An experienced professional will know exactly where to set up and when to play!

There are lots of competent players out there. However, not every good player has the experience, knowledge and poise to handle any situation that may come up. A thorough understanding of various church services is critical for musicians who play for ceremonies that are conducted in a place of worship. For instance, in a Christian ceremony, the mothers are usually seated last. However, in a Jewish ceremony, the mothers are part of the processional. The offertory in a Catholic church is something entirely different from the offertory in a Protestant Church. A Catholic mass is full of ritual and response that is completely unfamiliar to most non-Catholics. I have, on occasion, played with wonderful artists who haven't had a clue about what was going on. A working knowledge of various rites assures that the musician will play the right thing at the right time.

 

Many new performers assume that there will be someone at the venue to help them with their equipment and instruct them about when and where they should play. However, in my experience, this is rarely the case. I need to know exactly where to go and what to do in order to be ready to play at the right time. A familiarity with various locations is a real help. Knowing and having worked with the staff is extremely helpful. 

 

Many amateurs prepare one piece to play but there are many times when the unexpected happens and time has to be filled. Does your amateur artist have the repertoire to instantly and seamlessly fill the hole with appropriate selections? What will they do if for some reason the service doesn't go as planned? Are they used to watching what is happening and able to make the changes and adjustments that may be required? All of these things require experience and skill.

 

At the cocktail hour, too, it takes more than an ability to play. An hour requires much more music than many amateurs expect and guests may have requests for various selections… not to mention sound equipment. It is not the responsibility of the venue or the DJ to provide amplification for the harpist or other musician. This equipment requires an investment that a hobbyist probably can't afford.

 

Your wedding is a very special day that deserves the very best.

 

http://ww.youtube.com/watch?v=-1the48OJ7o

Just click this link for a funny example of what can happen!!




Categories: Don't trust you special day to anything but the best!!

0

/